Do a little more than you're paid to
Give a little more than you have to
Try a little harder than you want to
Aim a little higher than you think possible
And give lots of thanks to god for health, family and friends
– Piwi King
The Piwi King trophy for servant leadership is awarded to the student who has shown the greatest capacity to use their time and effort in pursuit of helping others throughout the year.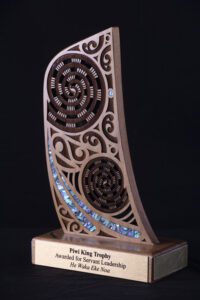 The first recipient of this award is Matariki Turuwhenua. Matariki is a current Year 12 student at Tarawera High School.  Matariki demonstrates leadership qualities in a quiet and subtle way. He likes to face challenges with a solution focused attitude which sees him overcome these barriers with ease.
Matariki is the appointed Student Representative on the Board of Trustees, an elected position. As the Chair of the Kawerau Youth Council, Matariki is a great role model to the community's younger students. He is fluent in Te Reo and English and functions comfortably in both environments. Matariki has represented the school at official events speaking on behalf of the school.
With this award, Matariki aspires to go on to study law/politics at Victoria University in Wellington. He hopes to change the lives of those around him by becoming an MP in Parliament or returning home to Kawerau to serve on council.
We are proud to award the Piwi King trophy to Matariki who embodies the character of Piwi King to whom this trophy is in memory of.