At Sequal, we believe our community is our collective responsibility, while being passionate advocates for personal responsibility and freedom of choice.
COVID and NZ's vaccination roll-out makes this a difficult balancing act.
Over the last couple of weeks, Sequal management have been meeting with staff to clearly communicate how we will approach COVID to minimise risk to our community at the same time as balancing personal freedoms.
We will not be mandating vaccines unless required by government but we will focus on:
1. Education – ensuring our people have the knowledge they need to make the best choice for them;
2. Accessibility – we will work with the community providers to ensure ease of access to vaccination and also to ensure there are no hurdles for our people to access this opportunity if they choose it; and
3. Capability – we are making sure we are prepared to keep running in the event of an outbreak in our community by minimising transmission risk and maximising site capability.
As part of our education journey, our Executive Director David Turner shared with the team the decision matrix he followed in deciding to be vaccinated and he encouraged staff to make their own personal risk assessment, but to not be complacent on the choice they make given the seriousness of the consequences.
We have also been fortunate to have Dr Sarah Gardiner to come onsite to inform our people on the effects of COVID-19 and the benefits and facts surrounding vaccinations.  Sarah completed a Bachelor of Health Sciences with a focus on health public policy and Maori health. Most recently, Sarah has been working in GP practices in Opotiki, Whakatane and Kawerau which allowed her to gain a frontline perspective to rural, Māori and health in New Zealand. Dr Gardiner currently works at Industry Med Occupational Health Centre at Tasman mill in Kawerau.
At our meetings Dr Gardiner was able to respond to the teams' questions, ensuring they are armed with the knowledge they need to make the best choice for them.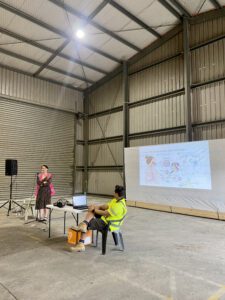 Sequal will continue to support the health and wellbeing of our communities, as well as personal responsibility for individuals to make the best choice for their own lives.